***************************************************************
~ 2010 ~
***************************************************************
JANUARY 2010 
The tendency to cruelty should be watched in children and if they incline to any such cruelty, they should be taught the contrary usage. For the custom of tormenting and killing other animals will, by degrees, harden their hearts even toward man. Children should from the beginning be brought up in an abhorrence of killing or tormenting living beings. They who delight in the suffering and destruction of inferior creatures will not be apt to be very compassionate or benign to their own kind.  ~ John Locke
***************************************************************
January 2010:  PIKE COUNTY ~ Dog Victim of Abuse

A large, black, German Shepherd/Labrador Retriever-mix was found along the road with two broken legs filled with buckshot. The dog, now named Leah, had been there for several weeks. She is in critical condition and will require extensive orthopedic surgery to repair the damage caused by the abuse.

~~~~~~~~~~~~~~~~~~~~~~~~~~~~~~~~~~~~~~~~~~~~~~~~~~~
January 2010:  PIKE COUNTY ~  Buster Redbone Coonhound [Mix] "owners" poured HOT water on him

Animal Control received a call about a dog tha
t so
meone had thrown hot water on. When they arrived at the residence, they found the sweetest dog that just wanted someone to love him. Buster had been mistreated most of his young life, but he has so much love to give.
 ~~~~~~~~~~~~~~~~~~~~~~~~~~~~~~~~~~~~~~~~~~~~~~~~~~~
 January 10, 2010:  MASON COUNTY ~ N.Ky. Man Charged With 30 Counts Of Animal Cruelty


Neighbors of a farm on Key Pike near Marysville, Kentucky called the sheriff's department after seeing the bodies of six dead horses in a field. 150 horses and donkeys lived on the farm. According to a sheriff who went to the property to investigate the complaints, "There was no water out for the animals, very minimal water." There was hay and feed for the horses and donkeys on the property, but these were not accessible to the animals. The farm owner claimed he has been in poor health and that a hired hand was supposed to be taking care of the animals.  The sheriff commented that, "I don't believe economics is part of the problem here. I believe its just neglect of the animals," The owner was charged with 30 counts of cruelty to animals and six counts of failure to dispose of carcasses. The horses were allowed to remain on the property unless a judge ordered them elsewhere.

Link: http://speakupforhorses.blogspot.com/2010/01/mason-county-ky-january-2010.html
~~~~~~~~~~~~~~~~~~~~~~~~~~~~~~~~~~~~~~~~~~~~~~~~~~~

January 2010: LOGAN COUNTY ~ Dog Shot, Kitten Decapitated at Shelter
Someone broke into the Logan County Animal Shelter through the back door and decapitated a kitten, leaving it on the floor. During that same night a Shepherd mix dog was shot.  According to autopsy reports bullets were found in the dog. The shelter director commented that, "I think these are sick individuals who are getting kicks out of killing animals."

 ~~~~~~~~~~~~~~~~~~~~~~~~~~~~~~~~~~~~~~~~~~~~~~~~~~~

January 2010: DAVIESS COUNTY ~ David, Black Lab with bullet in his femur
A police officer found a black Labrador Retriever with a bullet inhis back right leg. The dog, now named David,
did not put weight on it, but mostly walked on three  legs.
David appeared to be 3 to 4 years old.
He was taken to the vet by the police
and his leg was amputated.
~~~~~~~~~~~~~~~~~~~~~~~~~~~~~~~~~~~~~~~~~~~~~~~~~~~
January 2010: PIKE COUNTY ~ Lucy Jack Russell mom blinded by gunshot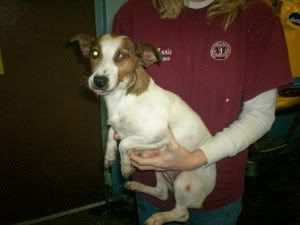 The Pike County Shelter received a call about a dog that had been shot. The shelter director responded to the call and found that Lucy, who was pregnant, had been shot in the eye. The bullet went through Lucy's eye and came out behind her ear. Lucy went into labor and delivered  six healthy puppies. The monster who did this has not been found.
~~~~~~~~~~~~~~~~~~~~~~~~~~~~~~~~~~~~~~~~~~~~~~~~~~~
January 2010: WARREN COUNTY ~ Boxer Emaciated and Abused by Owner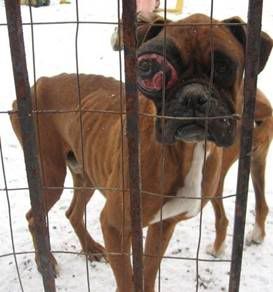 Ruben's picture is enough to break your heart. It was a 10 degree snowy day when Ruben was found in this condition in an outdoor pen. He rushed him to the vet, where it was determined that this poor dog had received enough blunt trauma to his face to cause the massive swelling that you see in the picture. It is also believed that Ruben may have had a preexisting tumor that, when hit, ruptured Ruben's eye. Besides his horrendous eye injury, Ruben was SKIN AND BONES.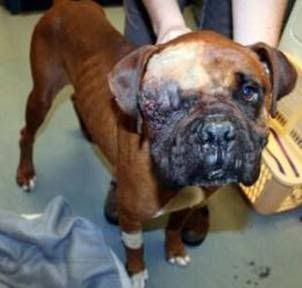 Ruben underwent emergency surgery during which his right eye was completely removed. We do not know how long this poor dog was made to suffer with this horrible injury, but we do know that he is safe now...he is warm, fed, and recovering.
***************************************************************
FEBRUARY 2010 
Cruelty has cursed the human family for countless ages. It is almost impossible for one to be cruel to animals and kind to humans. If children are permitted to be cruel to their pets and other animals, they easily learn to get the same pleasure from the misery of fellow-humans. ~Fred A. McGrand
***************************************************************
February 2010: GRAYSON COUNTY ~ Shelter Animals Abused and Killed
On the night of February 24th, 2010 a person or persons broke into the Grayson Humane Society shelter. After stealing the lock box full of money, the "people" decided to release the dogs from their kennel, took a very cat aggressive dog, locked her in the room with Athena and Darrell and let her kill them both. They then turned their attention to beating the dog close to death.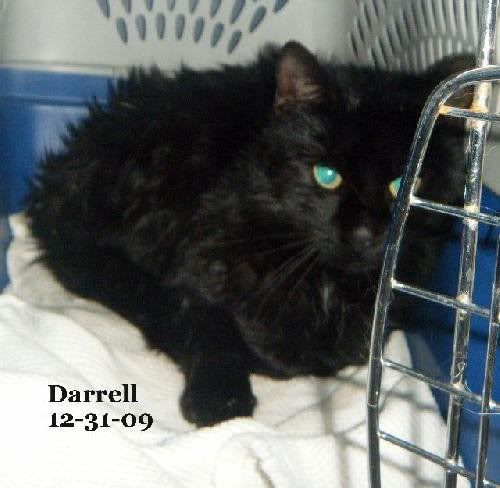 Darrell- Male R.I.P. 
Darrell was a very handsome boy who was trapped and brought to the shelter so he could have a new beginning in life.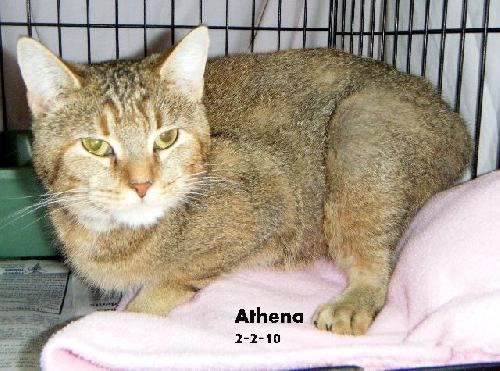 Athena- Female R.I.P.
Athena came into the shelter  because her owner couldn't take care of her anymore due to medical reasons. She was
waiting to be transported to a rescue.
~~~~~~~~~~~~~~~~~~~~~~~~~~~~~~~~~~~~~~~~~~~~~~~~~~~
February 27, 2010: MENIFEE COUNTY ~ Animal Abuse Discovered at Car Wash
A patron at the 460 Car Wash in Frenchburg noticed what appeared to be stuffed animals in a bag in the facility's rafters. Further inspection revealed the remains of six cats who had been shot to death, two possums, a hog's head, a chicken and some unidentified animal bones.  According to Pam Rogers, HSUS' Kentucky state director, "These innocent animals were killed and discarded like trash, and deserve justice for the horrific suffering they surely endured. Their assailant, who is certainly a danger to animals, can pose a serious threat to people." 
Link: http://latimesblogs.latimes.com/unleashed/2010/03/grocery-bags-of-dead-animals-found-in-kentucky-carwash.html

~~~~~~~~~~~~~~~~~~~~~~~~~~~~~~~~~~~~~~~~~~~~~~~~~~~

February 2010: Bath County, KY ~ 14 Year old Shoots Dog's Leg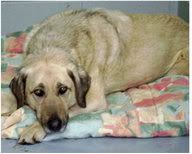 This beautiful Anatolian Shepherd, Anna, was shot by a 14 year old with a rifle. The shots shattered her rear leg into 15 pieces. OF COURSE, no one has identified the perpetrator and, given the abysmal record of county officials, it's unlikely Anna will ever see any justice for the crime committed against her.
~~~~~~~~~~~~~~~~~~~~~~~~~~~~~~~~~~~~~~~~~~~~~~~~~~~
 February 2010:  CLAY COUNTY ~ Cops, kids attend cockfight

Camera footage from an undercover operation showed children and uniformed police officers attending a cockfight in Manchester, Kentucky. Cockfighting is a cruel blood sport that is illegal in Kentucky and every other state. The video showed roosters thrashing at each other in a cockfighting pit. As the camera panned to the crowd of dozens gathered, cheering for the birds, at least four law enforcement officers can be seen in the crowd. The manager of animal fighting issues for the Humane Society of the United States stated, "Kentucky police officers should not treat this criminal activity with a wink and a nod, and it's another sign that state lawmakers must act to strengthen the penalties for cockfighting."

Link: http://www.cnn.com/2010/CRIME/02/24/kentucky.cockfighting/
***************************************************************
MARCH 2010 
One of the most dangerous things that can happen to a child is to kill or torture an animal and get away with it." ~Margaret Mead
***************************************************************
March 2010: OHIO COUNTY ~  Mama Dog Shot & Killed
Some poor excuse for a human being shot and killed a mother dog, dumped her in a field, and left a cardboard box with her 8 newborns next to the body.
~~~~~~~~~~~~~~~~~~~~~~~~~~~~~~~~~~~~~~~~~~~~~~~~~~~

March 2010: LAWRENCE COUNTY ~ Mom & Pups at Coal Mine in Desperate Need of Help!  
 

A dog, who had recently given birth to 10 puppies, was dumped at a coal mine.  She was very sweet and her  puppies were about 1-2 weeks old. They were located under a building at the guard shack. A man who worked at the mine had been taking the momma dog some scraps, but that was all she was getting to eat. Another poor female dog had previously been dumped at the same mine and had given birth to puppies. When the puppies got old enough to walk, the men working at the mine stomped them to death and took the momma dog out and shot her.

~~~~~~~~~~~~~~~~~~~~~~~~~~~~~~~~~~~~~~~~~~~~~~~~~~~
March 2010:  LOGAN COUNTY ~ Another Killing at the Logan County Shelter
When the shelter director went to the Logan County Animal Shelter to pick up supplies,  she found a Basset Hound dead in the male runs behind the shelter, shot through the head. This type of behavior has got employees a little scared. "This isn't a single incident, but instead a pattern," said the shelter director, who is worried someone may be watching the shelter.
~~~~~~~~~~~~~~~~~~~~~~~~~~~~~~~~~~~~~~~~~~~~~~~~~~~

March 14, 2010: SIMPSON COUNTY ~ Puppy Mill Raided


Animal Control and the Sheriff's office raided a suspected puppy miller in southwest Simpson County. Dogs were living in their own filth, covered with feces and mud, and having to fight each other for food. Piles upon piles of bones were found along with dead dogs lying out in the open. Thirty-two dogs were stuffed into a small space in horrible conditions. There were also nine horses on the property.


~~~~~~~~~~~~~~~~~~~~~~~~~~~~~~~~~~~~~~~~~~~~~~~~~~~
March 2010: PIKE COUNTY ~ Dog With Gunshot Wound to Leg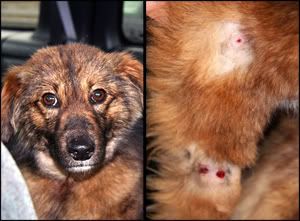 Peek-A-Boo was pulled from the Pikeville County Animal Shelter. She had suffered a gunshot wound to the leg - one entrance wound and one exit wound above her paw. After x-rays, the vet found that the bullet around her elbow was embedded in the joint. He performed surgery and removed the 22 caliber bullet
.
***************************************************************
APRIL 2010
Nothing living should ever be treated with contempt. Whatever it is that lives, a man, a tree, or a bird, should be touched gently, because the time is short. Civilization is another word for respect for life. ~Elizabeth Goudge
***************************************************************
April  2010: BULLITT COUNTY ~
Missing Dog Found on Lawn Wrapped in Duct Tape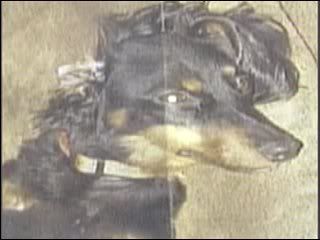 A black and tan miniature Dachshund named Limo went missing from his own.  Three weeks later he was placed in front of his owners' home, dead with duct tape binding his back legs.  A necropsy was inconclusive due to tissue deterioration.  Blunt trauma could not be ruled out.

~~~~~~~~~~~~~~~~~~~~~~~~~~~~~~~~~~~~~~~~~~~~~~~~~~~

April 2010: JEFFERSON COUNTY ~ Police looking for suspect in dog abuse case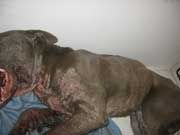 A Pit Bull was found tied up, severally tortured and tossed away in a west Louisville alley. Police officers called to investigate found the animal with an electrical cord tied around its neck and a lower jaw completely displaced and fractured in half. A quarter-sized chunk was missing from the dog's tongue and his forelegs were covered with puncture wounds. The injuries were described as extremely painful and enough to cause the dog to be euthanized immediately.

~~~~~~~~~~~~~~~~~~~~~~~~~~~~~~~~~~~~~~~~~~~~~~~~~~~

April 2010: TRIMBLE COUNTY ~  Dog Shot Through the throat!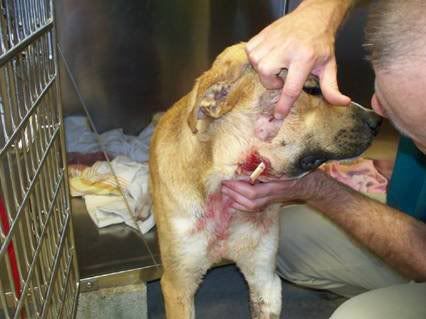 This poor baby  is a very sweet and mild-mannered dog.  He was shot through his throat. The bullet exited below his eye.  His jaw is completely crushed. The vet who is treating the dog hopes that new bone will grow enough to help.  There was nothing to wire together, so the poor dog has to eat soupy food for several weeks to let the jaw mend itself.


~~~~~~~~~~~~~~~~~~~~~~~~~~~~~~~~~~~~~~~~~~~~~~~~~~~

April 2010: FRANKLIN COUNTY ~ Dalmatian Shot in Face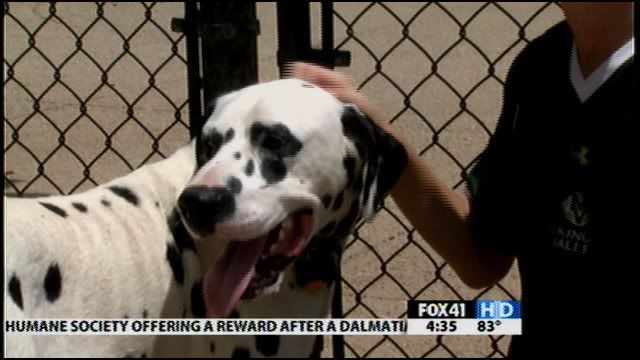 A Franklin County Animal Control found an emaciated Dalmatian off the side of the road in rural Franklin County. The dog had seriously infected wounds on his face and was immediately taken to Franklin County Humane Society for treatment. Upon arrival, staffers discovered that the dog had been shot in the face with a gun, possibly a rifle. Shelter staff named the dog Bullet. Shelter officials said Bullet sat calmly as they removed the bullet and cleaned his wounds. Since no owner ever came forward, Bullet was transferred to the care of The Dalmatian Rescue of Southwest Virginia.
~~~~~~~~~~~~~~~~~~~~~~~~~~~~~~~~~~~~~~~~~~~~~~~~~~~
April 27, 2010: HART COUNTY ~ Dog abuse allegations

Allegations of animal abuse have been made against a resident of Bonnieville who breeds dogs, including coonhound, beagles, and elkhounds. Witnesses, who want to remain anonymous out of fear of retaliation, claim the breeder has killed animals and let dogs feed off the carcasses. One of the witnesses took photos on the property. He claimed he saw dogs lying around dead. "There's two behind the shed and one in front of the dog kennel that was freshly killed that two other beagles ate." The witness also claimed the breeder abused dogs on hunting trips. "He'd choke them down so bad he'd have to carry them out of the woods after he gets them choked down." When asked if the dog was dead, the breeder explained the dog was on his last leg. According to the reporter who saw the photos, "The pictures of alleged dog abuse are so horrific we can't show you all the images." Another witness claims she saw the breeder kill a dog. She allegedly saw 8-10 dead dogs on the property. "It was severe. Nothing, no feet were left. No paws or anything left on the feet. The guts were cut out." The breeder claims he trades dogs and denies accusations that he has harmed his animals. Kentucky State Police have been to the residence and said they saw no signs of animal abuse.

Link: http://www.wdrb.com/story/12387035/dog-abuse-allegations
***************************************************************
MAY 2010 
.Children who witness violence toward their family pet suppress their own feelings of kindness and tenderness toward a pet because they can't bear the pain caused by their own empathy for the abused animal.
***************************************************************
May 31, 2010: WHITLEY COUNTY ~ Man Tortures and Kills Ex-Wife's Dog
On Memorial Day police were called to a residence in Corbin, Kentucky, where a man lived with his ex-wife. While the ex-wife was in Ohio, she exchanged text messages with her ex-husband telling him she wanted to end their relationship. Later that day, she called her ex-husband. During the conversation, the man said, "Your dog's acting weird" and that he should "finish her off." Minutes later, the woman received a text message that read, "Your dog's dead." A message sent later read, "Princess is going out with the trash tomorrow and I'll be gone." The woman's son found Princess' body in the yard beside the house. He cleaned her and wrapped her in a blanket. An autopsy indicated Princess died from blunt force trauma. The man was originally charged with a misdemeanor animal cruelty charge. However, that charge was upgraded to a felony following a July court appearance during which a Whitley County Assistant Attorney asked the Judge to amend the charge to a felony.
 Link: http://thetimestribune.com/local/x213893138/Animal-cruelty-case-waived-to-grand-jury
***************************************************************
JUNE 2010 
Unless we have courage to recognize cruelty for what it is - whether its victim is human or animal - we cannot expect things to be much better in the world.  ~Rachel Carson
***************************************************************
June 2010: BARRON COUNTY ~ BRAWA offers reward in dog cruelty case


Four dogs' lives were saved when they were picked up by the Barren River Animal Welfare Association after being dropped off on the side of the Road. All four dogs were infested with fleas and suffered from mange. Luckily the four dogs were rescued in time, unlike the five other dogs found dead on the same stretch of road.
~~~~~~~~~~~~~~~~~~~~~~~~~~~~~~~~~~~~~~~~~~~~~~~~~~~
 June 2009: MERCER COUNTY ~ 14 neglected horses removed from farm 
Fourteen American Saddlebred horses were removed from a farm on Curry Pike in Harrodsburg after neighbors reported to police that the horses were being neglected. The emaciated horses included several pregnant mares, with last year's weanlings at their sides. Several starved young stallions were found in the same pasture, running loose among the mares and possibly rebreeding with those who were not already in foal. The county animal control officer said the horses were not being fed. Most of the horses were also in dire need of farrier (horseshoeing) attention. Because the horses are being held as evidence, their hooves can't be trimmed and mended until the case proceeds through the court. The owner of the horses, a local developer, was charged with second-degree animal cruelty, which is a misdemeanor.

Link: http://articles.centralkynews.com/keyword/animal-cruelty
~~~~~~~~~~~~~~~~~~~~~~~~~~~~~~~~~~~~~~~~~~~~~~~~~~~
June 29, 2010: JEFFERSON COUNTY ~ Dog Abused By Boyfriend


Lucy, a four year old Jack Russell Terrier/Chihuahua mix, was a victim of domestic violence. She was kicked  by a man following a dispute with his girlfriend. Lucy sustained a shattered femur and required four hours of surgery. She now has screws and plates in her leg. Her abuser has been charged with animal cruelty and torturing a dog, which is a class D Felony.


***************************************************************
JULY 2010 
Compassion for animals is intimately connected with goodness of character; and it may be confidently asserted that he who is cruel to animals cannot be a good man. 
~Arthur Schopenhauer

***************************************************************
July 2010: ESTILL COUNTY ~ Dog with Open Wound Left Outside Shelter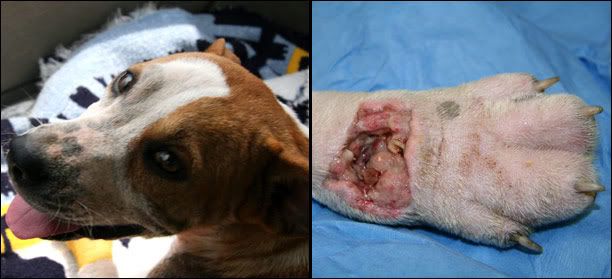 Gabriel was left at the Estill County Animal Shelter with a horrific open wound.  He was expected to suffer all weekend in the heat until a decision was made on Monday to determine his fate.  A member of the Shamrock Arrow Fund in Louisville heard about Gabriel's condition and on Sunday drove to Estill County.  She found Gabriel lying outside next to the shelter with no shade and a severe wound to one leg. Veterinarians suspect Gabriel sustained a gunshot wound and possibly has mange. Gabriel underwent surgery and two pins were placed in his foot. 

~~~~~~~~~~~~~~~~~~~~~~~~~~~~~~~~~~~~~~~~~~~~~~~~~~~

July 2010:  Yet another horrible abuse case

T

his Doberman Girl,  now named Ella, lived with a family who once let a dog nearly drown treading water for days in their open septic system. She is just over a year old, and already has had litters of puppies. Ella spent three days trying to deliver a new litter, resulting in internal damage/infection. She was also starving (35+ lbs underweight). Ella tried to run away from her owners and jumped a chain link fence. She caught her foot in the fence and hung there; upside down, starving, with an injured leg and foot. No one helped her until someone called the dog warden, who said Ella was probably hanging from the fence for one or two days. Ella might lose her leg. She is filled with parasites and has heartworm. Two of her week old pups were found alive. Ella was tortured by the actions of her owners, whether by intent or ignorance.

~~~~~~~~~~~~~~~~~~~~~~~~~~~~~~~~~~~~~~~~~~~~~~~~~~~

July 2010:  MARION COUNTY ~ Two Dogs Beaten


Cooper was brought to the shelter by Animal Control after they received a call that someone was beating two dogs. Sadly, Cooper's brother was found dead in a creek close to where Cooper was tied up. They believe the brother was either drowned or beaten to death and put there. Cooper is a very sweet boy. He shows no signs of his  horrible past, but he does get down and hides his face if someone is loud around him.

~~~~~~~~~~~~~~~~~~~~~~~~~~~~~~~~~~~~~~~~~~~~~~~~~~~

JULY 2010: PIKE COUNTY ~ Sweet Lab Used as Bait Dog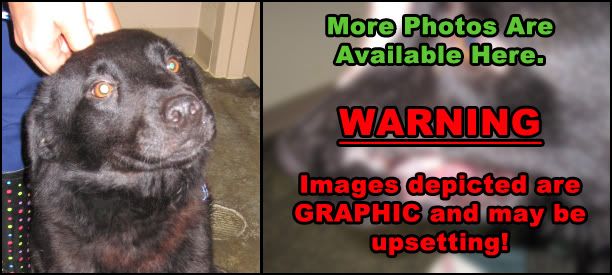 Dr. Billy, a sweet gentle black Lab, was discovered in a part of Pikeville that is known for dog fighting.  A portion of his mouth is gone on the left side of his face. It is believed this resulted from Dr. Billy possibly been used as bait for dog fight training.


***************************************************************
AUGUST 2010
The awful wrongs and sufferings forced upon the innocent, helpless, faithful animal race form the blackest chapter in the whole world's history.  ~Edward Augustus Freema
***************************************************************
August 1, 2010: JOHNSON COUNTY ~ Dogs Found Abandoned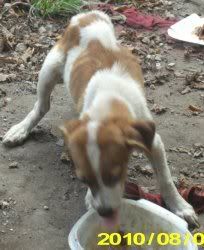 Fifteen to twenty dogs were abandoned at a home in Paintsville, KY. Some were locked inside the house with no food or water, while others were outside with no shelter, food or water. Many were very skinny. Some of the dogs had mange, worms, anemia, flea infestation,
broken legs, or old fractures that had healed without medical attention
  A VERY, VERY pregnant beagle had NO MILK from lack of food/water. She also had a previously broken front leg that healed incorrectly.



~~~~~~~~~~~~~~~~~~~~~~~~~~~~~~~~~~~~~~~~~~~~~~~~~~~
August 7, 2010: CASEY COUNTY ~ Kentucky Woman Arrested after more than 111 dogs found in home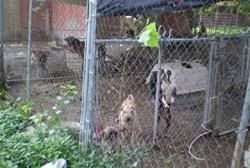 More than 100 dogs were living in deplorable conditions behind a Casey County home.  Investigators also made a disturbing discovery, when they found about a dozen dead dogs lodged in freezers in the home. Volunteers found dogs living in feces and without food, water or bedding. Some dogs had lime and concrete matted into their fur, while others exhibited symptoms of extreme dehydration. Veterinarians and volunteers worked throughout the night to catalog and treat the dogs. One dog died shortly after arriving at the humane society because of severe dehydration. Two more died over the course of the next day. T
he woman at the center of the Casey County animal cruelty case had been accused of problems with animals in the past.
~~~~~~~~~~~~~~~~~~~~~~~~~~~~~~~~~~~~~~~~~~~~~~~~~~~
August 8, 2010: PULASKI COUNTY ~ Man charged with torturing, killing puppy as children watched
A
Pulaski County man tortured and killed a six month old puppy in front of several children. More than one child watched as the puppy's tail was cut off with a knife and it was squeezed and slammed onto concrete steps at a house. The man told officers the six-month-old Jack Russell Terrier was sick and he didn't have money to take it to a veterinarian. The puppy, which belonged to the man's girlfriend's 12-year-old daughter, died shortly after the incident.

~~~~~~~~~~~~~~~~~~~~~~~~~~~~~~~~~~~~~~~~~~~~~~~~~~~

August 16, 2010: PIKE COUNTY ~ Puppies Dumped, Left to Die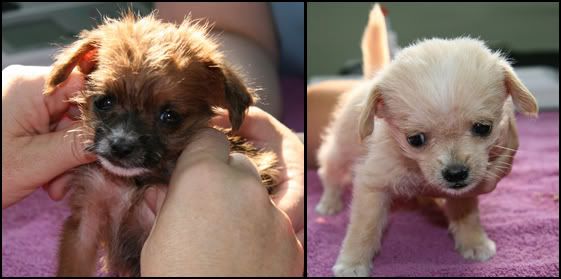 Three tiny puppies  were dumped in Pike County in a remote location in a bag of Dog Food - No Water, and in the heat! A man checking gas lines in the area found the puppies. One was too sick  and had to be euthanized. Hannah and Honey, the two surviving puppies, are being nursed back to health by the Shamrock Foundation in Louisville. They are 8 to 9 weeks old and weigh just 1.2 lbs. These babies are very sick and require 24 hour care. They have mange, fleas, and were very dehydrated.

~~~~~~~~~~~~~~~~~~~~~~~~~~~~~~~~~~~~~~~~~~~~~~~~~~~

August 19, 2010: TAYLOR COUNTY ~ Drunk Driver drags Dog to its death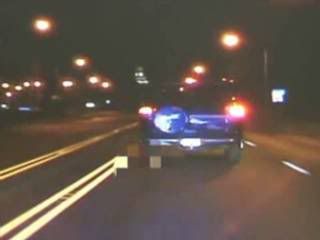 A Kentucky woman was drunk when she dragged a dog for several miles behind a van. The dashcam of a Taylor County sheriff's deputy's cruiser captured disturbing footage of a coonhound named Luke, as a black van van dragged him along US-68 near Campbellsville. When the driver was finally stopped, it was too late for Luke. He attempted to take five or six deep breaths. Two or three minutes later Luke passed away.  The driver had borrowed the van and allegedly never saw that Luke was tied to the back.
***************************************************************
SEPTEMBER 2010 
The fact that man knows right from wrong proves his intellectual superiority to other creatures; but the fact that he can do wrong proves his moral inferiority to any creature that cannot.  ~Mark Twain
***************************************************************
September 3, 2010:  JOHNSON COUNTY ~ Dogs found starving at eastern Kentucky home
The Johnson County Sheriff's Office says deputies were called to a home in the Sitka community to investigate an animal cruelty complaint. They found 12 dogs who did not have any water or food. Deputies say they also found one dog dead on top of a brush pile.  The dog had been partially burned, with the collar and leash still on. The dog warden was called in to remove the surviving dogs from the home. Seven of the dogs died while they were being transported to an animal shelter in Greenup County. Investigators don't yet know what caused the dogs to die.
LINK: http://www.wkyt.com/home/headlines/102978859.html

~~~~~~~~~~~~~~~~~~~~~~~~~~~~~~~~~~~~~~~~~~~~~~~~~~~
September 7, 2010: CLARK COUNTY ~ Dog Dragging Case


A Clark County resident reported finding a seriously injured dog in their barn. The Clark County Animal Shelter director responded immediately and rushed the dog to the veterinarian, but the dog died shortly after his arrival at the veterinarian's office.  The Clark County Sheriff's Office investigated the matter and discovered that the dog had been dragged behind a car for more than a mile—from an elementary school to a home on Calloway White Road, where his body was left in the street. In spite of his broken bones and other horrific injuries, the pit bull apparently crawled from the road to seek refuge in the barn.
~~~~~~~~~~~~~~~~~~~~~~~~~~~~~~~~~~~~~~~~~~~~~~~~~~~
 September 25, 2010: ANDERSON COUNTY ~ Anderson man charged with animal cruelty

An Anderson County man was charged with second-degree cruelty to animals after he was arrested on an unrelated warrant. Witnesses told the Anderson County sheriff's department that the man stomped on a puppy's neck and threw it into a fire pit. The incident occurred at the man's residence on Dry Dock Road about five miles west of Lawrenceburg, Kentucky. The mixed-breed puppy was 8 months old and weighed 14 pounds. The puppy was buried on the property, but was exhumed as evidence. The man was charged  with animal cruelty, a Class A misdemeanor punishable by up to a year in jail.

Link: http://www.kentucky.com/news/local/counties/franklin-county/article44053920.html
~~~~~~~~~~~~~~~~~~~~~~~~~~~~~~~~~~~~~~~~~~~~~~~~~~~
September 29, 2010: JESSAMINE COUNTY ~ Neglected dogs, Dog fighting suspected

A member of the Jessamine County Sheriff's office went to a residence  on Kissing Ridge Road to serve an arrest warrant. The person being served was not home, but the server found hungry, neglected, and dying animals on the premises. Eleven pit bulls, two Chihuahua mixes, 3 puppies, and a Jack Russell Terrier were found  in the garden of the house along with a treadmill, indicating the pit bulls were being trained for dog fighting. A puppy was found dead in the house. All of the dogs were taken to the Jessamine County, Kentucky SAVE Center, an animal shelter for dogs and cats in Nicholasville, Kentucky.  The animals were in very bad shape. The pit bulls were at least 15 pounds underweight. All of the animals were infested with fleas. The owner has been charged with second degree animal cruelty,

Link: http://abusedpets.blogspot.com/2010/10/neglected-dead-dogs-fighting-suspected.html
***************************************************************
OCTOBER 2010 
The worst sin toward our fellow creatures is not to hate them, but to be indifferent to them; that's the essence of inhumanity. ~George Bernard Shaw
***************************************************************
NOVEMBER 2010 
The first public protest against cruelty to animals, per Toynbee, a historian, was in 55 BC by the Roman people, to save the life of an elephant.  ~Godofredo Tutzin, Esq.
***************************************************************
 November 10, 2010: CLAY COUNTY ~ Suit Filed Over Extreme Animal Neglect by Officials in Clay County, Kentucky

 
An outraged resident of Clay County filed a lawsuit against the  county for extreme neglect of animals at the county's shelter. Although the state legislature provided the county three years to come into compliance with Kentucky's Humane Shelter Law, the county failed to meet the minimal requirements. According to the complaint, the county shelter is woefully inadequate and many, if not most of the dogs, are housed in one large, open-air pen that does not protect them from the elements. The resident who filed the lawsuit said she saw filthy cages, dead and dying puppies, and dog food strewn amongst urine and feces. Animals were left without food and water over the weekend. In addition, the County has refused to adopt certain dogs to the public, keeping them at the shelter when adoptive homes are available. Nearly all of the cats have serious upper respiratory infections. None of the sick or injured animals receive veterinary care and they are often left to languish in their cages until they die or are euthanized.

Link: http://aldf.org/press-room/press-releases/suit-filed-over-extreme-animal-neglect-by-officials-in-clay-county-kentucky/
***************************************************************
DECEMBER 2010
According to a report released  by the Animal Legal Defense Fund (ALDF), Kentucky is the worst state in the country when it comes to animal abuse.
***************************************************************
 December 2010: Five Best States to be an Animal Abuser -  Kentucky-the single worst in the nation for animal protection laws for the fourth year running!

The legislative weaknesses seen in the states at he bottom of the animal protection barrel include severely restricted or absent felony animal cruelty provisions, inadequate animal fighting provisions, and lack of restrictions on the future ownership of animals for those convicted of cruelty to animals.

Link: http://aldf.org/press-room/press-releases/year-end-study-names-2010s-five-best-states-to-be-an-animal-abuser/
********************************************************************************************
))))))))))))))))))))))))))))))))))))))))))))))))))))))))))))))))))))))))))))))))))))))))))))))))))))))))))))))))))))))))))))))))))))))))))
********************************************************************************************